Halfway – Restless Dream: Pre-Order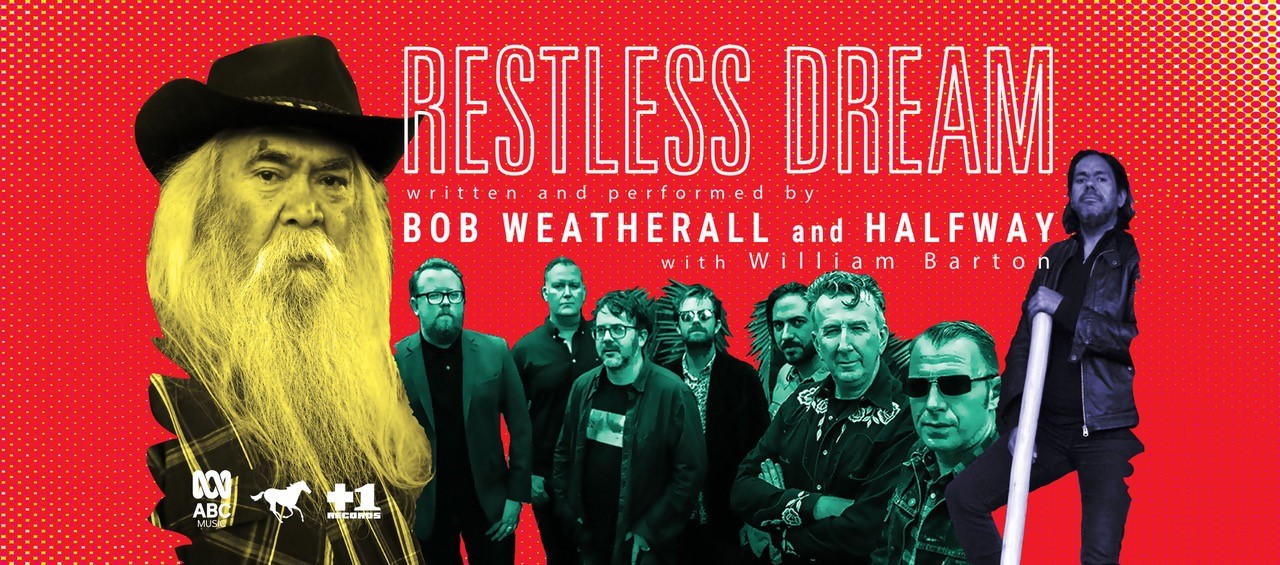 A collaboration between Kamilaroi elder Uncle Bob Weatherall, Brisbane band Halfway and William Barton, Restless Dream is a new performance piece. Read more..

To celebrate Halfway's 20th Anniversary, we are releasing a special deluxe edition of our 2018 Long Player 'Rain Lover'.
The original pressing is now out of print, so rather than simply re-press we thought we would do something special.
The deluxe edition will be pressed on 180 gram, random coloured vinyl (either blue or yellow), limited to 150 copies and each one will be signed by all of the band members.
In 2021, we will be recording album number seven with Canadian producer Malcolm Burn. Malcolm's recording career began in New Orleans as the off-sider to legendary producer Daniel Lanois. Together Malcolm and Daniel worked on Bob Dylan's 'Oh Mercy', The Neville Brothers 'Yellow Moon' and Lanois' solo album 'Acadie'.
Since moving on to become a producer in his own right, Malcolm Burn has gone on to make seminal records for Iggy Pop, Emmylou Harris, Patti Smith, Archie Roach and Midnight Oil.
2021 will also see the release of another of our labours of love, 'Restless Dream'. This is a collaboration with Indigenous Elder Bobby Weatherall and will be released through Plus One Records and ABC Music.
The project includes songs and spoken word stories which document Bobby's fight for the repatriation of indigenous remains and artifacts from museums and galleries around the globe. The album also features legendary Didgeridoo player William Barton.
Thanks for your support over the last 20 years. See you in 2021.
John Busby | Halfway | Dec 2020
I love Halfway. They are my favorite Australian band at the moment.
It's true I don't really keep dibs on the scene these days, because I don't have to, I'm not a rock journalist or anything and so I don't even have to pretend I'm up with everything, or even anything, but I know what I like and I've seen Halfway play live a few times (and that's more than I can say for most other acts), and I love them and I know they're great because I've got golden ears, believe me! I'm still listening to their last album Any Old Love.
I'm not really sure how the business works these days either, but the fact that Any Old Love wasn't more widely celebrated suggests it's not so different to what it ever was. But if you think this new album is going to be a mere replay of that last one, you're going to be disappointed – or, like me, delighted!
I mean, on paper, chuggalug bar-band country-rock or jangly pop is the last thing I'd want to hear, but that's just an indication how good Any Old Love was – it transcended genre, by dint of majorly excellent songwriting and ensemble performances by a band as good and as terse and economic (their real strength as a sprawling eight-piece) as any I've ever heard. But as much as it's a long way to go to Nashville to make a record that's not very country, that's what Halfway have done with this album, and more power to them, for following their collective heart.
This is a record that as all good records do, takes a step beyond its predecessor. It's not very country, but a little bit. I don't know how you'd describe it generically – I told you I wasn't up with things – it's just sort of pop-rock – there's probably some stupid acronym for it – but does it matter anyway? when you can just slap it on and listen for yourself. The more important thing is that great songs still leap out and shine.
If Any Old Love was Halfway's love letter to their deep roots in Rockhampton, this album is a calling card for their troubled adolescence there. It is a song cycle of bittersweet love that ends where you grow out of adolescence and fly the coop. Halfway go all the way.
Clinton Walker, 2016
Press
A QUEENSLAND classic, but you don't have to know anything about the settings, the landscapes or the backstory to be swept away by Any Old Love. The songs alone are enough to do that, wherever you live.
Like any great piece of art, and I have no doubt that Any Old Love is that, everything is there before you to discover for yourself. It's the kind of album that gets into the marrow, that keeps you thinking about it even when you're not playing it, rich in layers and details, in the lyrics, in the instrumentation, arrangements, even in the cover art.
If the listener seeks extra guidance there is a glossary in the liner notes to explain certain references, that the Shakespeare Hotel is in Barcaldine, that Callaghan Park is the home of the Rockhampton Jockey Club, and the stories behind racehorses such as 1995 Melbourne Cup winner Doriemus and Dulcify, the favourite for the 1979 Cup who broke down in that race and was put down.
There is a theme which connects the songs on this fourth and finest album by Brisbane band Halfway, and that is based on stories imagined around the Shakespeare and a central character who is an ex-jockey working out west.
Halfway was formed by Rockhampton-raised songwriters John Busby and Chris Dale. Busby spent time in Barcaldine as a child and he knows the track: his father was a jockey and trainer and they are co-owners of a racehorse. When that background meets the imagination, the results are vivid, songs like Hard Life Loving You - no explanation required - and the morning-after blues of Shakespeare Hotel.
Dulcify is one of several bar stories here: 'Some days Doriemus/Some days Dulcify/Everyone gets a Beldale Ball once in a while''. Beldale Ball? It's in the glossary.
Another Is Erebus and Terror, with a superb vocal from Dale, an allegorical tale featuring the story of two ships of British explorers lost in the Arctic in the search for the northwest passage in 1845.
Woven through the fabric of the album is the title tune, presented in four short parts between the other songs rather than in one offering. Like everything else here, that detail works too.
Producer is Robert Forster, formerly of the The Go-Betweens, and the Halfway line-up now features John Willsteed (also of The Go-Betweens) on guitar. He is working with Forster in the studio for the first time since 16 Lovers Lane (by The Go-Betweens) in 1988.
For anyone who cares about the rich history of the music that descends from The Byrds, The Band, Bob Dylan and Neil Young, Any Old Love is essential listening.
Dylan had Highway 61; Halfway have the Capricorn Highway. On Any Old Love, the heat, the dust, the love, the regret, the joy of being alive, is so real you can taste it.
Review of the week - 5 Stars Noel Mengel Courier Mail 2014
EIGHT players make up Halfway, a rock band from Brisbane that injects banjo, pedal steel guitar, piano and mandolin into the genre's usual instrumentation.
The central lyrical theme on Any Old Love is evident in the title: almost all of the 13 tracks are love songs in one shape or another. Whether it's the exploration of that emotion in its nascent stages (Honey I Like You) or towards the end of a difficult relationship (Hard Life Loving You), the prose is never less than honest and true.
So, too, are the razor-sharp melodies conjured by these eight men, particularly album opener Dropout, a ludicrously catchy instant-classic that is at once familiar and unique. In a departure from the shared duties observed on 2010's excellent An Outpost Of Promise, almost all of these songs are credited to John Busby, who shares vocals with fellow guitarist Chris Dale.
Both possess soft, distinctive voices that sit snugly amid their bandmates' driving groove. There is depth to the stories told here, too: "Bar stories and cautionary tales on the Central Western Line", reads a subtitle in the liner notes, referring to the 780km Queensland railway system that runs from the state's Emerald to Hughenden.
There's even a helpful glossary that lists 13 terms and names mentioned in the lyrics; clearly, a lot of thought has gone into this album, the band's fourth. Any Old Love marks another accomplished entry into the growing catalogue of one of Australia's best rock bands.
4.5 stars Andrew McMillan The Australian
Any Old Love is a dusty artefact, based around a story set in Barcaldine in Central Queensland. The components are not glossy and polished. With heartbreakingly emotive songs like Honey I like You, it is made up of older pieces - worn, at times sad, but touched with beauty.
Seeing a reunion between Robert Forster (producer) and John Willsteed (guitars), I found settling into these racing tales to be like driving 150km/h down a dusty highway with 300 kilometres to home. You might too. Also check Factory Rats and Dulcify.
THE AGE­­­ ★★★★
Any Old Love makes for a funny sort of reunion, bringing together former Go-Betweens John Willsteed (on guitar) and Robert Forster, who produced this high-calibre slab of country and urban, the Brisbane band's fourth release.
The reference points for the twangy octet are clear and strong: early R.E.M., Born Sandy Devotional-era Triffids, Son Volt, Wilco, Whiskeytown. It's all heartfelt, honest, real, if a tad grim. They mix the moods throughout: the dimly lit travelogue Hard Life Loving You is countered by such rabble-rousers as Honey I Like You and Factory Rats. Shakespeare Hotel, meanwhile, gives the heartstrings a fair old tug.
JEFF APTER Sydney Morning Herald ★★★★
Brisbane outfit Halfway's fourth album Any Old Love is a fascinating beast, a complete artefact – especially on vinyl – on which the lyrics, music, artwork and even liner notes by author Ross Gibson coalesce into one absorbing narrative about a man desperate to hold on to his rapidly-receding dreams; a universal theme if ever there was one.
The main protagonist is a jockey whose career at city tracks has prematurely hit the skids, and who finds himself holding court at a Central Queensland pub – making the beautiful Shakespeare Hotel not just the album's midpoint but also its emotional centerpiece. Tracks like Honey I Like You and Hard Life Loving You set the scene perfectly, while the gorgeous Sunlight On The Sills brings it all home and closer Waking Hours brings a hint of optimism to the occasionally melancholy proceedings. It's one of John Busby's best batches of lyrics, complemented by Chris Dale whose songwriting contributions are as requisitely strong as ever.
Naturally it wouldn't all work without strong musical accompaniment, and the eight-piece are in typically strong fettle; ex-Go-Between John Wilsteed's recent addition on guitar brings polish and dexterity (his former band-mate Robert Forster once more taking the production reins, abetted in parts by Minneapolis music maverick and former Replacements mentor Peter Jesperson, who scores a co-production credit), while the remaining band members fill their respective roles with aplomb. An utterly beguiling piece of work in both scope and execution.
Steve Bell The Music ★★★★
Barcaldine. Inland from Rockhampton, from Emerald, out toward Longreach, deep west, wild and untamed, a modern final frontier. It's a part of the world that's likely to inspire a morbid sense of ruin, run down and depressing, a waterless oasis in the middle of nowhere, a place without hope, riddled with desperation.
And yet to many it holds a stoic beauty, a romanticism you'll only find in rural Australia, a place that seems to sing, music emanating from the ground itself, melancholy yet rich with tales of times gone by, tales which could only come from a place like this.
With their fourth album, Brisbane band Halfway have encapsulated this forlorn music – they've turned it into something real, a wavering paean to this town, a former big-time jockey and his rivals, the Central Western Railway line, a Royal British Naval officer who lived in the 1700s, and they've done it with aplomb.
Like the 'Tree of Knowledge', an old Ghost Gum in the middle of Barcaldine regarded as the place where the Australian Labor Party was formed in the late 1800s, Any Old Love grows slowly, over time becoming something towering and quietly powerful. It's a concept album of sorts, following the story of the aforementioned jockey, fame and fortune behind him, now toiling in the heat out west, stories of his exploits thick on his lips.
It tells the tale of Naval officer Sir John Franklin, who led the doomed voyage north to find a route through the Canadian arctic; it talks of Dulcify, the champion racehorse who won the Cox Plate in '79 and who was tipped to win the Melbourne Cup but broke its pelvis, mid-race, and was killed that same day; it tells of other horses, other jockeys, the Shakespeare Hotel in Barcaldine, the mighty Capricorn Highway. It tells of loss and desperation and, yet, harking back to the inherent beauty of hard, ragged times and places like these, it tells it all in a way which inspires, which is a true high point of Any Old Love.
he album is entrenched within the hallowed confines of country music, but not in a way that takes too much from that which has come before. Opener 'Dropout' takes its cues from sweaty city rock pubs, soaring guitar yet underscored with simmering pedal steel and organ, an anthemic start to proceedings. 'Dulcify', by contrast, is a slab of Paul Kelly-esque pop music, a perfect little tune nicely edged with the simple pluck of a banjo, Noel Fitzpatrick's pedal steel sliding in at exactly the right moment, one of the strongest numbers on the record.
The masterstroke on Any Old Love though, and I suspect repeat Halfway collaborator Robert Forster had a hand in this, is the title track, split into four parts and interspersed throughout the album. Recorded "live, late one night after the regular sessions had finished," this melancholy number ('Any Old Love' parts 1, 2, 3 and 4) is a single song that, after 30 seconds or so, fades out, to be picked up again at a later time, serving to bring the theme back again and again.
It's just a couple of voices, a couple of guitars; you can see the band sitting around in a circle in the early hours of the morning, tired, happy, crafting a track which perfectly sums up what they've been working on – it bleeds simplicity, honesty and realism. A song which stands for the whole album, which wraps it up tight and true.
"Say it now and say it right," they sing on album closer 'The Waking Hours', and with Any Old Love, entrenched as it is in a time long gone, in a place far away, Halfway have done just that. It's a quintessential Australian album, dusty and sunbaked, a gem.
Samuel J Fell - Mess & Noise
If I had the money I would immediately buy the eight members of Brisbane band Halfway airfares to play at the Americana Festival in Nashville this September. Their fourth album, Any Old Love, superbly produced by former Go- Between Robert Forster, would seem to qualify the band ahead of a lot of other pretenders.
The band consists of John Busby (vocals, Guitar), Chris Dale (vocals, guitar), Elwin Hawtin (drums), Ben Johnson (bass), Dublin-born brothers Noel Fitzpatrick (pedal steel) and Liam Fitzpatrick (banjo/mandolin), as well as ex-Go-Between John Willsteed (guitars) & Luke Peacock (keyboards/guitar). If they sound like they have been playing together for years, it is because they have – the band was formed in 2000. The musical setting is rich, moving between the up tempo and the ballads. The music is sympathetically produced, as one would expect, from Robert Forster, who has an ear for economy and gets the balance exactly right.
Any Old Love is framed around quintessentially Australian stories, some specifically from Queensland: 'Dulcify' (about the racehorse), 'Shakespeare Hotel', 'Erebus & Terror' (about two Royal navy ships), 'Dropout' (a great driving song), 'Hard Loving You' (about a woman leaving Barcaldine), 'Factory Rats' and more. The subtitle reads Bar Stories And Cautionary Tales On The Central Western Line. The main character is a jockey holding court in the hotel bar.
If I use the term of alt country to describe Any Old Love it is done with the intention of flattering what I reckon is one of the best local examples of its kinds in years!
Brian Wise - Rhythms Magazin