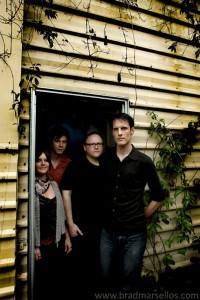 The latest project of Screamfeeder frontman Tim Steward, We All Want To's eponymous debut album was recorded over a year across multiple recording studios with a laundry list of respected producers – from Magoo to Darek Mudge.
While the band have since expressed regret over pursuing such a wilfully complicated approach to recording, nothing else in the record's genealogy more effectively conveys the egalitarian spirit of We All Want To's idiosyncratic blend of professional focus and artistic whimsy.

Not unlike Steward's work in Screamfeeder, the record is defined by the ongoing struggle between evocative texture and meticulous songcraft – with the key difference of We All Want To prioritising the latter as opposed to the former. Lead single A La Mode is perhaps the most extreme example of the album's beautiful dichotomy. Steward's co-vocalist Skye Staniford precisely constructed the song from simple instrumental and vocal loops but, as the track progresses, the song transforms its prevailing aesthetic from accomplished indie-pop song to well-intentioned sonic cacophony.
While the relationship is never as pronounced as in A La Mode, a similar thread of chaos/control runs through the rest of the album's tracks. Japan alternates between gorgeous clean-picked guitar lines and swelling flights of electrifying texture, Underwater expands from a lonesome bass-line and solemn drum beat to a dramatic, noisy crescendo of backing vocals, organ and guitar and Cyclone undercuts Staniford's stripped-back vocal with a pulsing, melodic foundation.
Under normal circumstances, one would expect the formula to grow tired. Fortunately, the band's various members excel in bringing colour and imagination to the most tired of structures and, in Staniford and Steward, the group have two songwriters and vocalists of complementary charisma and undeniable talent. An unsurprisingly exceptional debut.
HHHH     Matt O'Neill