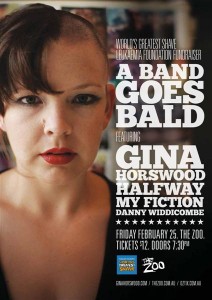 "World's Greatest Shave – A Band Goes Bald" is in honour of our friends' father who is currently battling leukaemia. The idea is, after Gina Horswood Band plays, members of the band will line up to shave or colour their heads to try and raise a heap of cash to donate to the Leukaemia Foundation.
Fortunately for us, the support from our local music community has been awesome, and we now have Danny Widdicombe, Halfway and My Fiction coming along to entertain punters as well. A member or two from one of these bands might even be joining us in baldness!
This is the first band show for Gina Horswood since the launch of the Crazy Brilliant Mess album in March 2010, so there will be some new songs to debut as well as some scalps. And who could pass up a night with Danny Widdicombe, Halfway and My Fiction – all for a good cause?! See you there.